Finned radiator is the main cooling component of the power transformers and special transformers.
The high efficiency finned radiator's cooling element is manufactured by automatical punching, combining, drop sew-welding and edge cutting
with high quality cold rolled steel sheets. We use outside CO2 protection welding to do the connection between elements and oil collection pipe.
This technique could avoid the welding residue or iron scrap produced by inner welding, which will affect the heat transfer performance and
quality of the radiator. Also the finned radiator will be strictly checked with sealing test and hot oil flushing, its surface with hot-dip galvanizing and
painting, to guarantee the product quality.
The finned radiator fully meets the transformer industry standard JB/T 5347 and BS-EN 50216-6 when tested by third-party inspection institute.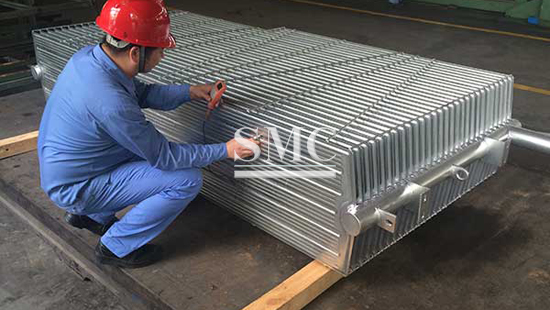 Specfications of Finned Radiator for Transformer:
1) Element width: 310mm, 480mm, 520mm, 535mm, etc.
2) Element thickness: 1.0mm,1.2mm, etc.
3) Central distance: 500mm - 4000mm
4) Oil collection pipe:
88.9mm (3.5inch) x 4mm, 114.3mm (4.5inch) x 4.5mm
Structure type:
1) Fixed (PG type, without flange)
2) Demountable (PC type, connected with flange)
External surface: Hot-dip galvanized, powder coating
Radiator type: