SMC is a professional stainless steel manufacturer with a wide range of stainless steel products, providing high quality, low price stainless steel products to customers around the world. The sales volume is considerable, Stainless Steel Sheet/ Plate (201, 304, 316, 430, etc), Stainless Steel Panel (Stainless Steel Panel ( 201, 304, 316, 316L, 430, etc), PVD Coating/ Coloured Stainless Steel Sheet, etc., for you to choose from, there is no minimum order quantity requirement, fast delivery, of course, we can also customize it according to your special needs.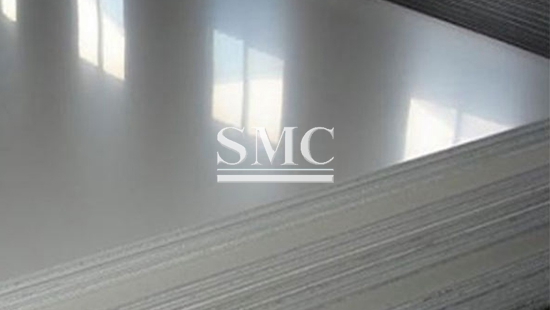 The principle of stainless steel plate production is that the stainless steel raw material is polished on the steel plate surface by polishing equipment with a polishing liquid, so that the plate surface is flat and the luminosity is as clear as a mirror. Stainless steel mirror panel series products are widely used in architectural decoration, elevator decoration, industrial decoration, facility decoration and other renovation projects.
The process of processing stainless steel mirror panels can be divided into two methods: general grinding and fine grinding. Which of the mirror effects produced by these two processing methods is better? This is determined by looking at the brightness of the mirror surface, and the blisters and grinding heads on the surface of the sheet must be small. In general, stainless steel plates are processed on a polishing machine, and the slower the speed of travel, the more the number of sets of grinding, and the effect will be very good; when the stainless steel plate is processed using polishing equipment, the first is to The plate is sanded, and then the stainless steel plate is placed in the polishing liquid. The grinding process is carried out by 8 sets of different grinding heads. The grinding process is basically the treatment of the surface of the stainless steel plate. This process has no depth. This step is mainly for the purpose. The oxide layer on the surface of the stainless steel plate is removed.
After the above process is completed, it can be washed and dried, and the color stainless steel mirror panel is recolored on the basis of the

stainless steel mirror panel

. Now the high-grade color stainless steel mirror panel is processed by vacuum ion plating technology. Even pattern etching can be performed on the mirror panel, and patterned etching plates of various styles and styles can be obtained.
SMC is looking forward to serving you.
For our full list of products that we offer check out our website here. Be sure to join the conversation in our LinkedIn group, Facebook, and Twitter. Try also our WeChat by scanning the QR code below.
Anna H.//SMC Editor